Online 200 Hour Yoga Teacher Training
This Course will launch on:  17th September 2022 and will run live via Zoom, over 7 weekends, once a month, until March 2023
Live training course dates: 17th & 18th September 2022 | 15th & 16th October 2022 | 19th & 20th November 2022 | 10th & 11th December 2022 | 7th & 8th January 2023 | 11th & 12th February 2023 | 11th & 12th March 2023
Timings: 9.00am – 5.00pm (UK time)
200Hr Online Hatha Yoga Teacher Training
Online 200 Hour Hatha Flow Yoga Teacher Training with senior yoga teacher Sally Parkes and her team
Our next 200hr Hatha Yoga Teacher Training will be launched on 17th September 2022, and will be held entirely online, via Zoom.
This course will run over 7 weekends, once a month until March 2023.
This training is run live online, and will require your attendance to the online lessons on each of the dates. The course contains all of the content of a traditional yoga teacher training, with the convenience of studying from wherever you are in the world.
We limit the numbers of students on each training to 15, to ensure that each student still benefits from a personal relationship with the tutors. Full support from the tutors is available throughout the course and there is the opportunity to join our private Facebook group for students and graduates of our training.
Our 200 Hour yoga teacher training course is certified by the Yoga Alliance Professionals (UK) where Sally Parkes Yoga has been awarded the prestigious Trainer Pro status.
Click here to read more information about our 200hr Yoga Teacher Training Course
Attendance of & active participation in all modules, plus completion of coursework & assessments, as laid out by your course leader are essential in order for you to complete the course & receive your certification.
If you are a Sally Parkes Yoga graduate from a previous SPY course (this includes trainings such as Fertility You and Yin Yoga Trainings too) you are entitled to a £100 discount off the 200Hr Yoga Teacher Training. Please let us know upon enquiry.
Hear from past 200Hr Yoga Teacher Training Graduates:
What to expect from this course
You will receive expert & thorough tuition from Sally Parkes and her highly experienced team, setting you up for confidence to teach, sequence and develop your own, authentic yoga teaching style.
Course Modules:
Traditional Yoga Asana
Meditation
Subtle Anatomy
Yoga Philosophy
Teaching Methods & Ethics
Anatomy & Physiology
Restorative & Yin Yoga
Prenatal & Postnatal Yoga
Ayurvedic Way of Life
Home study & Self Practice

Pre-recorded material

Assignments & Final Exam
Props Required:
Yoga Mat
Yoga Strap/Belt
Bricks (min 2)
Foam Block
Blanket
Bolster
Your Training Manual (will be sent to you)
Pen & Paper, Journal
Laptop/larger device for Zoom Training sessions
We do not believe in franchise structures or tying you in to costly contracts.
To receive your certification in this internationally renowned training, you will pay only the stated training fee, nothing more.
Cancellation Policy
Your place on this course is confirmed once your deposit and/or course fees have been received by Sally Parkes Yoga Ltd.
Due to the limited spaces on this yoga teacher training course, your deposit and subsequent course fees once paid, are non-refundable nor transferable. Nor is your place on the training transferable once the training has begun. 
We cannot take responsibility for any missed days of training. 
Attendance of and active participation in all modules, plus completion of coursework and assessments, as laid out by your course leader are essential in order for you to complete the course and receive your certification.
For in-person trainings, we are not responsible for any travel, accommodation, food or drink or other resources you may need to complete the chosen yoga teacher training course.
By registering and paying the course fees, you are agreeing to this policy. Thank you.
See what some of our certified yoga teachers are doing now:
Investment:
£2270
 Payable in monthly installments.
£100 discount is available for previous SPY graduates.
To secure your spot a £500 (non-refundable) deposit is required. Then you can make 5 additional, automated payments of £354 over 5 months, from a starting date that suits you.
Bespoke plans also available, please contact us to let us know what you need and we will do our best to help you.More info and booking
Training dates for 2022 Online Course
This training takes place one weekend a month for 7 months – Attendence to all dates is required.

2022
17th & 18th September
15th & 16th October
19th & 20th November
10th & 11th December
2023
7th & 8th January
11th & 12th February
11th & 12th March
Timings: 9.00am – 5.00pm (UK time)
Questions? Contact Sally via WhatsApp +44 7983 508018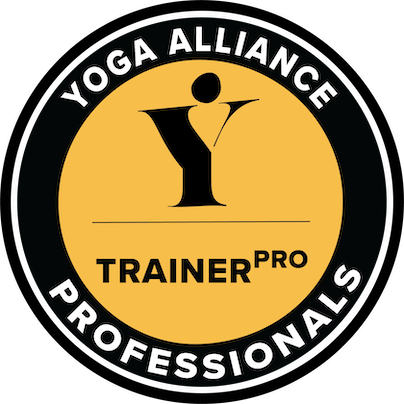 Our Trainer Pro Status
We are thrilled to have been awarded the coveted 'Trainer Pro' status from Yoga Alliance Professionals.
This status recognises that all Sally Parkes Yoga trainings over deliver in the depth of knowledge and student support they offer, ensuring our courses give our students an outstanding amount of value and personalised input on every training.

The Trainer Pro award recognises that Sally Parkes Yoga courses overdeliver in the depth of knowledge and student support that is delivered, giving more value and individual input to our students.

Our intention is to ensure that every student that comes to us, leaves our courses confident, knowledgeable, and fully encouraged to be the best teacher they can be, and fully encouraged to realise their dreams.
Sign up here for the latest news!