The Hacienda Retreat Centre, Andalusia, Spain
6 Day Yoga Retreat:  23rd – 29th July 2022 with Sally Parkes & Chris Thompson
6 Day Yoga retreat 23rd – 29th July 2022
with Sally & Chris in the Andalusian countryside
Join us on our 6 day yoga retreat in the mountains just an hour away from Granada, for a wonderful blend of Vinyasa Flow and alignment focused Hatha Yoga in the glorious Spanish sunshine.
Set in the beautiful Andalusian countryside with panoramic views of the Sierra Nevada, in an area of outstanding national beauty and ecological diversity, this retreat offers a complete getaway from everyday life.
You can expect a warm welcome from your host at La Hacienda, Tracie, and from your expert teachers, Sally Parkes and Chris Thompson.
This retreat promises a relaxing break with twice daily yoga classes which are held in the outdoor yoga space or in the indoor yoga studio.
There will be time for quiet contemplation in the meditation temple or in the beautiful grounds as well as time to get to know like-minded people. There is also free time each day to explore the local area, relax at our beautiful villa by the pool, watch the sunset, stargaze… the choice is yours.
Schedule
During your stay, there will be morning and evening yoga classes held each day, all of which are optional. Classes are suitable for all levels including beginners – please let us know upon booking of any injuries or medical issues that may impact your yoga practice.
Schedules can be subject to change but a typical day will include the following (Please note our two main meals are large meals and there is fruit, yoghurt, cake and snacks offered throughout the day).
8.00-9.30am Vinyasa Flow Yoga Class
10.30am Brunch
5.00-6.30pm Alignment focused Hatha Yoga
7.30pm Dinner
There is also the opportunity to book extra one-to-one sessions with Sally or Chris at an extra cost.
Sally Parkes – BSc, SYT, EYT, RPYT
Founder and course leader of Sally Parkes Yoga Academy
Sally has been teaching since 1998 and has a wealth of experience in both practicing and teaching Hatha Yoga, with a particular interest in Ashtanga Yoga in which she trained to teach with Paul Dallaghan, and Iyengar Yoga. She has studied in India, Thailand and the UK and teaches people from all walks of life regardless of age, ability or experience. Now a Senior Yoga Teacher, Sally divides her time between running retreats, her 200 hour Yoga Teacher Training, 85 hour Pregnancy Yoga Teacher Training and other certified yoga CPD workshops. Sally has also written articles for a number of yoga, health and fitness magazines, and is the author of The Students Manual of Yoga Anatomy.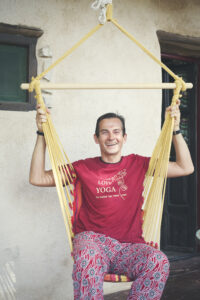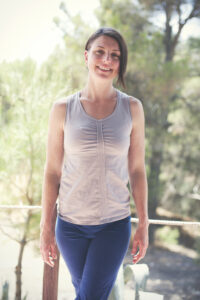 Chris Thompson RYT200, SYT
Chris started practising yoga asana at home in 2001 from books to help him become more flexible, to aid running. He became more and more interested in yoga and eventually started attending classes. Bikram initially before finding Sally Parkes, Iyengar & Kundalini classes in Worthing, West Sussex.
As Chris practised more, he fell more in love with yoga, realising it is about much more than just the physical aspects. Now, as part of the Sally Parkes Yoga team, he seeks to help others on their yoga journey.
Chris has spent several four-month trips in India over the winter. Amongst travel and practising yoga an variety of teachers, he spent time at Agastya Siddha Vaidya Yoga Ashram in Edavanakaad, and Sivananda Yoga Vedanta Dhanwantari Ashram in Neyyardam. Each experience rich and broadening.
Chris loves to immerse himself into practice and truly lives the yogic lifestyle. He has gained so much from this enlightening practice and continues to learn.
Food
All food is fresh, vegetarian and plentiful. All food is made on site and locally sourced where possible. We often have freshly picked figs, almonds, olives and fruit to enjoy, plus a freshly baked cake each day for afternoon tea.
Dishes include:
Homemade soups including Gazpacho
Paella
Stuffed Peppers
Frittata
Spanish Omelette
Homemade thin crust pizza
Avocado and walnut salads
Fresh fruit salads
Please note: Most food allergies or intolerances can be catered for but please notify us beforehand as this may incur an extra cost. We have one large brunch per day and a large dinner after our evening class. A self-serve light breakfast of toast, cereal and fruit is available and snacks, light bites and refreshments are available all day. Rest assured that you will not go hungry.


FAQ
What is included in the cost?
All classes, accommodation, meals, snacks and fresh fruit and herbal teas are included in the cost.
We offer a transfer to/from Malaga airport included in the cost of the retreat. Please see below for further details.
Where shall I fly to?

Please book your flight to Malaga airport.
Guests often fly with Easy Jet from the UK to Malaga. We suggest you look at www.skyscanner.net for current flight availability and prices. Please take note of the flight timings below if you wish to use the transfer service provided.
Guests often find bringing hand luggage/carry on baggage is sufficent for the retreat and find this speeds up their journey through the airport.
Transfers to and from the airport:
Included in the retreat price, is a transfer from Malaga airport to The Hacienda Retreat.
Our transfer will leave Malaga airport at 14:00 / 2pm (Spanish time) on 23rd July 2022.
You will need to ensure your flight arrives before 13:15 / 1.15pm (Spanish time) to meet us at the airport for this transfer.
We will then provide a transfer to leave The Hacienda at 10am to go to Malaga airport at on 29th July.
For your departure, please organise your flight from Malaga airport from 1.30pm (Spanish time) on 29th July 2022.
Inclusive Malaga Airport Transfer Terms: Transfer service is only available from Malaga airport at the stated times and not available from any other airport. You do not have to take advantage of our transfer service if you do not wish to, but the cost of the retreat will stay the same. It is possible to get flights at different times to those advised and get a taxi to the venue. However please be aware that taxis in the area are costly and one to the venue from Malaga airport will cost in excess of 130 euros (last time we checked).
What should I bring?
Please bring with you suitable clothing for yoga. Loose or stretchy clothes are perfect.
We have yoga mats, blocks, bolsters and straps at the venue.
A swimming costume, sun cream/block & a sun hat is also strongly recommended.
You may also want to bring some suitable clothes for walking as the surrounding area of the Sierra Nevada is stunning. 
About the classes
The yoga classes are a combination of energising Vinyasa Flow Yoga with Sally in the morning followed by an alignment based Hatha Yoga session with Chris later in the day. Classes are suitable for all levels and those with little or no experience in yoga are also very welcome. We are also happy to adapt classes for those with injuries or conditions. Please let us know beforehand so we can plan accordingly. Yoga mats, blocks, straps and bolsters are supplied by The Hacienda.
Vinyasa Flow Yoga
Sally's morning classes will be an energising blend of Sun Salutations, standing postures, twists and supported back-bends. The class will be flowing and invigorating with the aim of generating heat and strength within the body whilst increasing flexibility. Invigorating, but fully accessible for all.
Hatha Yoga
Hatha Yoga aims to relax and lengthen the muscles and can ease aching joints, especially the lower back, which in turn helps to bring balance to your body. Chris will focus on correct alignment of the postures during these classes to really help to maximise the benefit of this gentle, full body practice.
Please note: You are very welcome pick and choose which classes you attend, there is no pressure to participate in all the sessions.
About the Hacienda
With Set in the beautiful Andalucian countryside with panoramic views of the Sierra Nevada,the Hacienda Retreat Centre is quiet, calm and restful and has a rustic, remote feel, whilst the creature comforts included make for a relaxed and comfortable stay.
Facilities include:
Indoor and outdoor yoga areas
A purpose built yoga studio
Meditation temple with prayer chairs
Swimming pool
Indoor sauna
Plentiful locally sourced vegetarian food


What to see and do in the area
Please click here for information on the beautiful surrounding area.
The Hacienda is just 8km from the town of Montefrio, which has been declared a town of historical and artistic interest – with its striking setting, friendly residents and beautiful churches this town is a wonderful place to spend an afternoon. Nearby there is an intriguing archaeological site from which numerous artefacts indicating early human settlement have been recovered. Slightly further afield is UNESCO World Heritage Site, the Alhambra Palace overlooking the Moorish city of Granada. The Hacienda is ideal for walkers, hikers and cyclists who can literally step out the door and begin their exploration of the area on the many tracks and paths that pass by the villa. Nature enthusiasts will love the variety of landscapes, bird-life and wild flowers in the area. 
Price:
£847pp
The cost of this retreat is £847 per person in a twin shared room.
A £200 deposit is required to secure your place.
Contact us to book at: info@sallyparkesyoga.com
Questions?
Contact Sally on WhatsApp
+44 7983 508018 
2022 Dates
23rd – 29th July 2022
with Sally Parkes & Chris Thompson
Retreat Location
The Hacienda Retreat, Carretera Tocón, 18270 Granada, Spain
To read more about The Hacienda Retreat venue visit:
"Hi – we just wanted to say a BIG THANK YOU to you for a terrific week in an amazing retreat – WOW! We both really enjoyed the whole experience. We were not sure what to expect over a full week but we were never disappointed at any time thanks to you. We are already planning to keep up with our yoga at home and are looking to re-book soon. Thanks again…"
"I honestly had the most wonderful week at the Hacienda. We were so lucky with the lovely group we had, so relaxed and supportive, as well as with the great weather. I have made so many friends and I enjoyed all that great food as it was all completely delicious. The healthy meals combined with all the Pilates and yoga means that I have the best abdominal strength and definition I've seen in years! The teaching from Sally was excellent, and I love that while you take things seriously, there was always room for laughter. I was given some great adjustments that will make a massive difference to my practice, so thanks so much for everything. I'd go back in an instant!"
Related Articles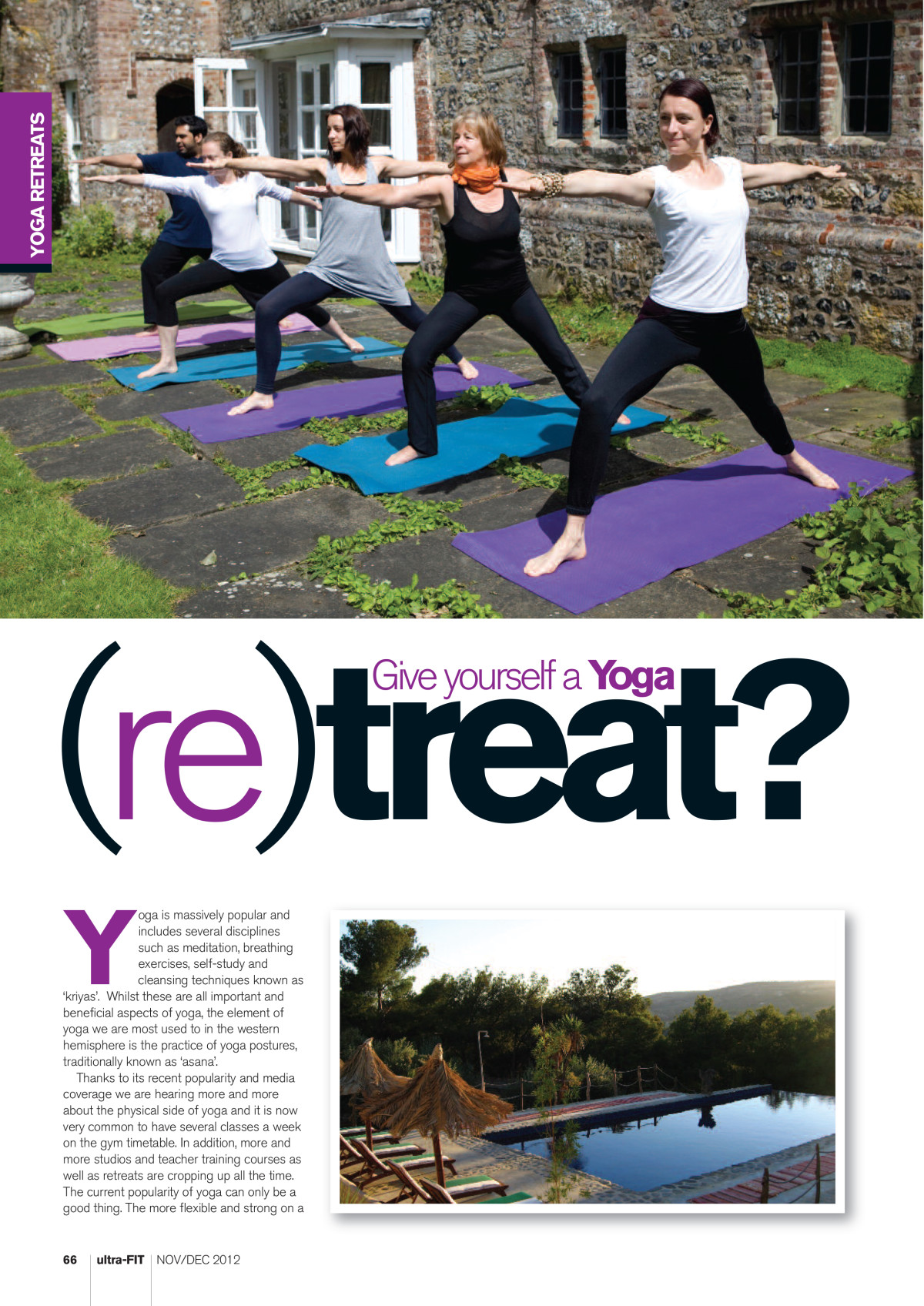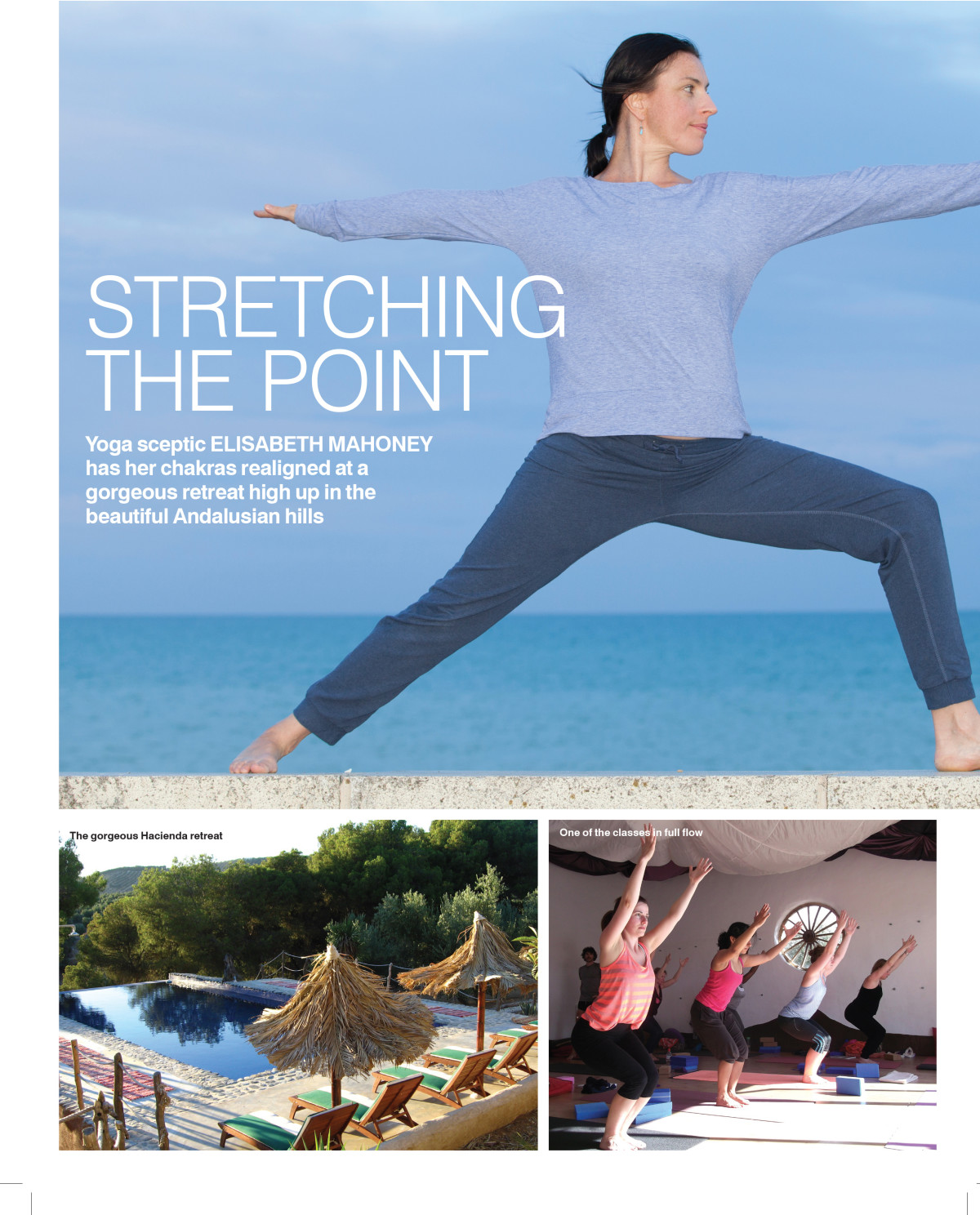 Sign up here for the latest news!