85hr Pregnancy Yoga Teacher Training Online
with Sally Parkes BSc, Online, via Zoom
This 6 day course will run on:  19th – 21st & 26th – 28th January 2024  |  26th – 28th July & 2nd – 4th August 2024
Timings: 9.00am – 5.00pm (UK time)
Online 85 hrs Pregnancy Yoga Teacher Training with Sally Parkes BSc
Venue: Live online via Zoom
This Pregnancy and Postnatal Yoga Teacher training course is fully certified & accredited Yoga Alliance Professionals (UK) and Yoga Alliance (USA) and is taught by Sally Parkes BSc.
The online trainings feature expert guest teachers & speakers, to enhance the content to this in-depth course, as well as bonus material and lifetime access to the recordings of the live training sessions.
With full accreditation from the above bodies, our internationally renowned Pregnancy Yoga Teacher Training course offers 85 hours of learning about all aspects of becoming a mother – from pregnancy, to the postnatal period and Parent & Baby Yoga.
Successful participants join us as students but leave as teachers with the knowledge, confidence & expertise to successfully run classes and private sessions which deliver safe, uplifting and effective yoga & functional movement practices, with clients at all stages of pregnancy & beyond.
Sally is passionate about anatomy (see her published book The Student's Manual of Yoga Anatomy in the reading list) and the course offers a strong focus on anatomy & physiology with emphasis on learning about female energy (Shakti), which plays such a vital role in conception, pregnancy and birth. Students will develop a thorough knowledge of Yoga asana & Pilates inspired functional movement, Mudra (seals), Pranayama breathing techniques), Yoga Nidra & guided relaxation, Meditation, science-backed lectures, Hypnobirthing, the effective use of props, how to support a pregnant mother-to-be and new mother in the postpartum period.
The course also offers a broader offering and specifically focused gentle postnatal Pilates inspired movement to support, stretch & strengthen; gentle exercise for pelvic floor health and physical alignment; basic yoga sequences for mother & baby; and recovery and rehabilitation in the postnatal phase.
The contact hours allow the opportunity for discussion & sharing, as well as yoga practice. A carefully designed, well-balanced program, that includes special guest teachers & lecturers for the Hypnobirthing & Relaxation module, Parent & Baby Yoga and a local Midwife for the step by step overview & progression of pregnancy, so that you can understand & appreciate the physiological aspect of the pregnant and postnatal body, when teaching your clients.
All students receive LIFETIME ACCESS to the live online recordings of the sessions and a PDF copy of the training manual, handouts & presentations. (Hard copies of the manual are available to purchase if required.)
Furthermore, you will also receive ongoing support via our dedicated, closed Facebook group and invites to further training with Sally Parkes Yoga, before they are announced to the general public.
Topics covered
Movement

: Pregnancy safe yoga and functional movement to stretch and strengthen the prenatal & postnatal body and help alleviate common ailments of all the trimesters.

Pranayama & Relaxation

: Pregnancy appropriate relaxation, pranayama (breath practices), visualisations, meditation & Hypnobirthing (delivered by a Hypnobirthing yoga teacher***) for the expectant mother. Understand how simple breath work and deep, guided relaxation can help rejuvenate & support an expectant or new mother mentally, physically & emotionally.

Posture

: Learn how pregnancy might negatively affect postural alignment and how with the correct programming of yoga and tailored, functional movement, this could be counteracted or avoided.

Sequencing & Class Preparation

: Sequencing a yoga session for an expectant or postnatal mother across all trimesters, in an inclusive, non-judgemental, compassionate and empowering way.

Props

: Understand how to effectively use yoga props to help the expectant mother feel more supported.
Birth and Birth Preparation Module
Learn about yoga asana for optimal foetal positioning and how the position of baby may affect labour and the birthing process for the expectant mother.
Working with an exercise ball and chair for the later stages of pregnancy to prepare for, and aid the birthing process.
The importance of the Nervous System: the role the Sympathetic and Parasympathetic Nervous Systems not only during birth, but as a whole.
Birth and labour – discussion of different types of birth: a physiological birth vs a medical intervention birth.
Supportive meditation, visualisation and positive affirmations for the birthing mother that can be used regardless of birth plan, no matter how birth unfolds.
A factual, science-backed lecture by a Midwife* about stages of pregnancy from conception, foetal development, the physical, mental, hormonal and emotional changes for the expectant mother, labour and the birthing process, and the postnatal period for the new mother.
Postnatal Yoga and Parent & Baby Yoga Module
Accessible yoga & Pilates related, functional movement for the postnatal period (4th trimester) to stretch, strengthen and comfort the physical body to help alleviate common ailments of the postnatal phase. This includes any postural malalignment and changes such as upper and lower crossed syndrome, kyphosis, general body heaviness, fatigue/low energy, weakened glutes, tight hip flexors, weak pelvic floor. These will be practiced as a group.
Gentle, Postnatal Recovery Yoga & Relaxation session for the mother who has experienced a medicalised birth, birth trauma or other side-effects of pregnancy and/or the birthing process.
Parent & Baby Yoga – A complete class for both baby and parent (or carer) delivered by a Parent & Baby Yoga Teacher** and discussion on how to plan & facilitate an inclusive class safely, effectively & informatively, in a supportive and uplifting environment.
After completing this course, you will have the skills to:
Be able to teach a Pregnancy Yoga class/private session, a Postnatal Yoga class/private session and a Parent & Baby Yoga class/private session.
Teach a well-rounded functional movement class that honours a woman's mind, emotions and physical & subtle body at this special & sacred time.
Integrate props effectively into classes to allow accessibility for all participants.
Adapt classes for those with specific injuries (pregnancy/birthing or otherwise) & common ailments, such as lower back pain, pelvic girdle pain, low/high blood pressure, fatigue, tight shoulders, stiff neck and any other physical changes.
Have a clear understanding of why it is important to incorporate all elements of yoga into a class; the subtle body, the spiritual aspects, philosophy, energetics and the physical practice.
Have a clear picture of what actually happens to the body during pregnancy and birth: hormonal, emotional, physical & mental changes.
Take a compassionate, non-judgemental approach to individual clients, create rapport & offer genuine support to people on their journeys.
Assignments:
As part of this 85hr course & in order to gain your certificate to register as a Pregnancy Yoga Teacher, you will be asked to undertake some private study and reading in your own time. There are some assignments to complete, including class observations, a study of the trimesters, a teaching practice and case studies. You will also be expected to read the course training manual fully.
Yoga Alliance (USA) and Yoga Alliance Professionals (UK) and certification:
This training is 85 hours (including private study time) to meet with the standards of Yoga Alliance Professionals (UK) and Yoga Alliance (US).
The course is open to ALL. We welcome students from all backgrounds; whether you are a midwife, doula, yoga teacher or work in sports training, all you need is a keen interest in antenatal education and a passion for sharing your knowledge, along with a foundational understanding of yoga.
Following your successful completion of this training, and if you already have a 200hr Yoga Teacher Training certification, you will be permitted to register with Yoga Alliance Professionals (UK) or Yoga Alliance USA as a Registered Pregnancy Yoga Teacher. If you do not hold a 200hr Yoga Teacher Training certification, you may register your 85 hours of training with Yoga Alliance Professionals or gain independent insurance. 
All sessions will be recorded and the training videos will be available for you to download after the training to keep and revisit.
Please note: It is essential for students to attend, complete & engage with all scheduled hours and complete the homework before certification will be issued.
Reading List:
To purchase prior to the training:
Bountiful, Beautiful, Blissful by Gurmukh

The Female Pelvis 

by Blandine Calais-Germain – Sally is also using this book more and more on the course, so you may like to purchase this at some point.

The Student's Manual of Yoga Anatomy by Sally Parkes. You can get this directly from Sally for £15, if you'd like a copy. Order your copy HERE
The Course Training Manual (PDF copy included in your training fee, you have the option to purchase a hard copy)
For this Training you will need:
A yoga mat
2 x yoga bricks
1 x yoga belt
A yoga bolster (or 4 throw cushions in a pillow case).
One large birthing / fitness ball, at a height so that when you are sitting on it, your hips are a little higher than your knees
A Soft Teddy / Baby Doll (for Parent & Baby module only)
Notebook, pen, highlighter
Your training manual
NB:
*when a midwife is available for the lecture, within the UK. Otherwise Sally will cover these topics.
**when the teacher is available for the class/lecture, within the UK. Otherwise Sally will cover these topics.
***when the teacher is available for these classes/lecture, within the UK. This may be sent to you via pre-recorded material. Otherwise Sally will cover these topics.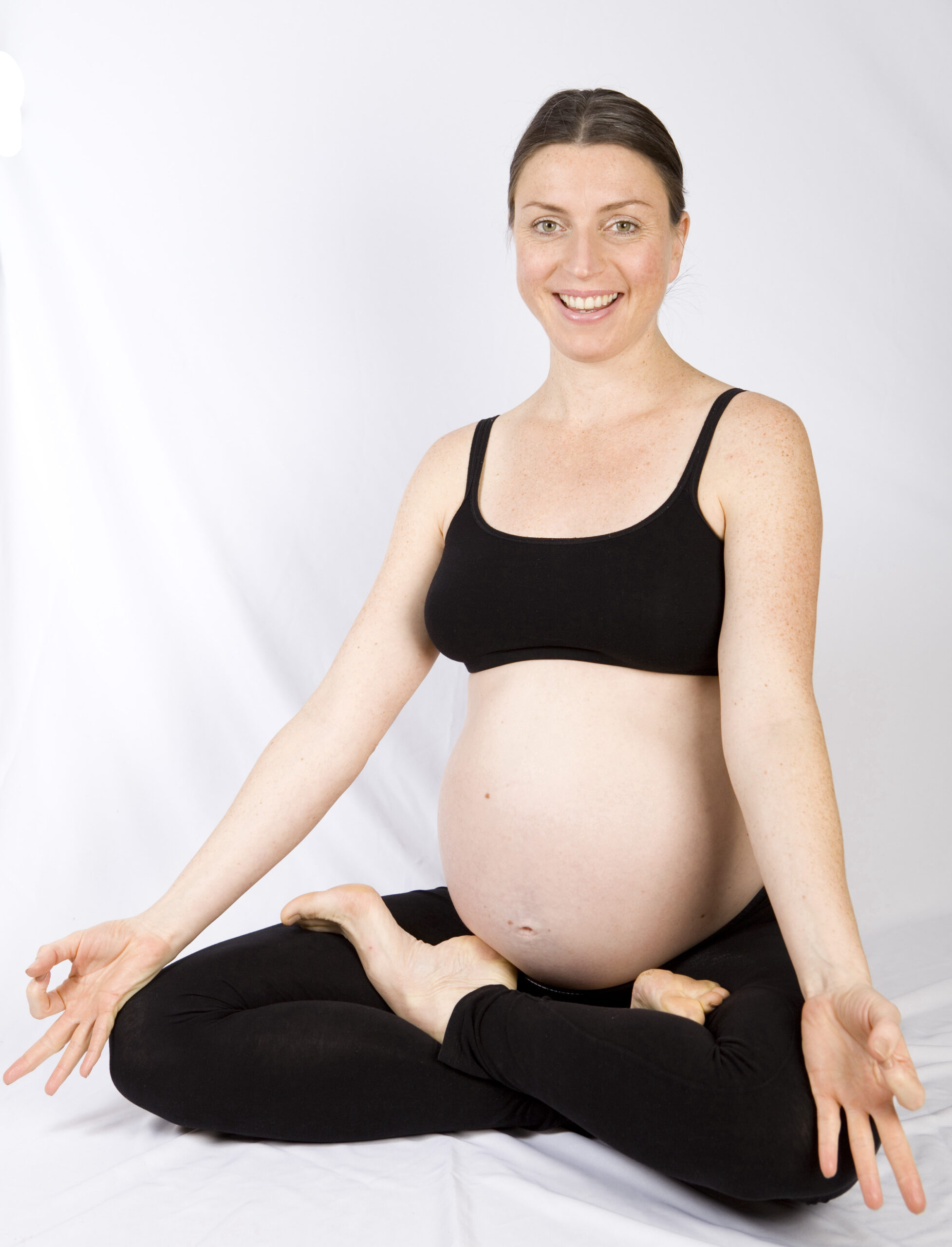 About your teacher – Sally Parkes BSc, SYT, EYT, RPYT
Sally Parkes (BSc) has over twenty years teaching experience in the Wellness Industry and an Honours Degree in Exercise Physiology. Sally trained as an Ashtanga Vinyasa Yoga teacher in 2004 with Paul Dallaghan, before continuing her studies in Mysore, India.
Upon becoming a mother however, she heard her calling to teach Pregnancy Yoga and now specialises in delivering prenatal and postnatal yoga teacher trainings around the world.
Sally's training is unique in that she shares her extensive knowledge in anatomy and physiology, whilst weaving together all elements of the yoga tradition in order to empower the mother to be to bring her baby safely and lovingly into the world.
Now a mother of two daughters, Sally also pens many articles for major publications and is the author of the bestselling book The Manual of Yoga Anatomy. Certified as an Experienced and Senior Yoga Teacher, Sally is known for her humour, warmth and inclusive presentations and delivered training in the UK, Asia and the Middle East.
Cancellation Policy
The deposit for the training constitutes the first £200 of the 85 hour Pregnancy Yoga Teacher training course fee and is non-refundable.
It is not possible to have your place refunded or transferred to a Pregnancy Yoga Teacher training course at a later date once this deposit has been paid. We will accommodate any transfers related to the Covid Pandemic or a fault of ours. Anything else will incur an admin fee of £25.
We STRONGLY recommend that you take out insurance to cover your training costs in the event that you have to cancel or curtail your training for whatever reason, including adverse weather and sickness. Sally Parkes Yoga cannot take responsibility for any missed days of training. If you wish to make up any missed parts of the training, you would be liable for any future course fees if you wish to join at a later date.
Please note: It is essential for students to attend, complete & engage with all scheduled hours and complete the homework before certification will be issued.
If you need to miss time on a training course, please contact us to discuss.
By registering and paying the deposit for this course, you are agreeing to this policy. Thank you.
Would you like to host Sally at your yoga studio for any of our trainings or a bespoke workshop?
Please get in touch on info@sallyparkesyoga.com to discuss your requirements.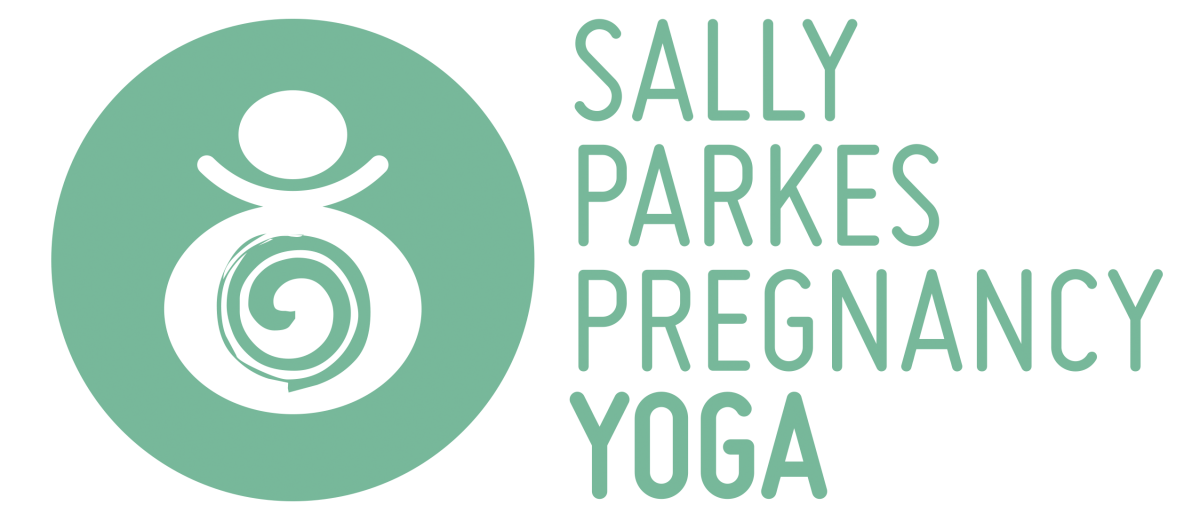 Pregnancy Yoga Training Testimonials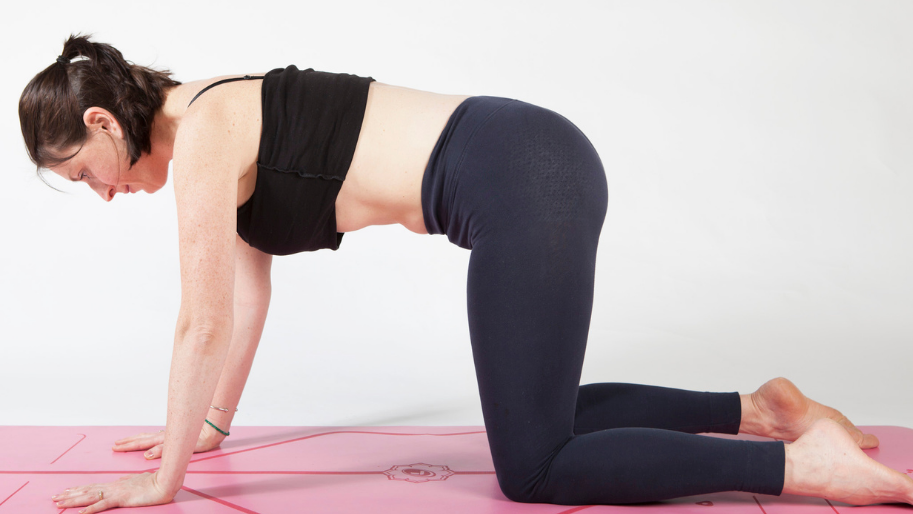 Course Price:

From £647 Early Bird* 
*£697 for January 2024 Online Course
*£647 Early Bird for the July 2024 Online Course when paid by 30th April 
Payment plans available
19th - 21st & 26th - 28th January 2024
26th - 28th July & 2nd - 4th August 2024
 If you wish to pay by BACS please email info@sallyparkesyoga.com for our bank details.
Questions? Contact Sally via WhatsApp +44 7983 508018
Upcoming training dates for 2024
19th – 21st January 2024 – Part 1
25th – 27th January 2024 – Part 2
Book here
(Full 6 day certified training course £697)
1st – 3rd March 2024 – Part 1
7th – 9th March 2024 – Part 2
Book here
(Full 6 day certified training course- from £747)
6th – 8th June 2024 – Part 1
20th – 22nd June 2024 – Part 2
Book here
(Full 6 day certified training course- from £750)
26th - 28th July 2024 - Part 1
2nd - 4th August 2024 - Part 2
Book here
(Full 6 day certified training course- from £647)
*2024 Dates coming soon*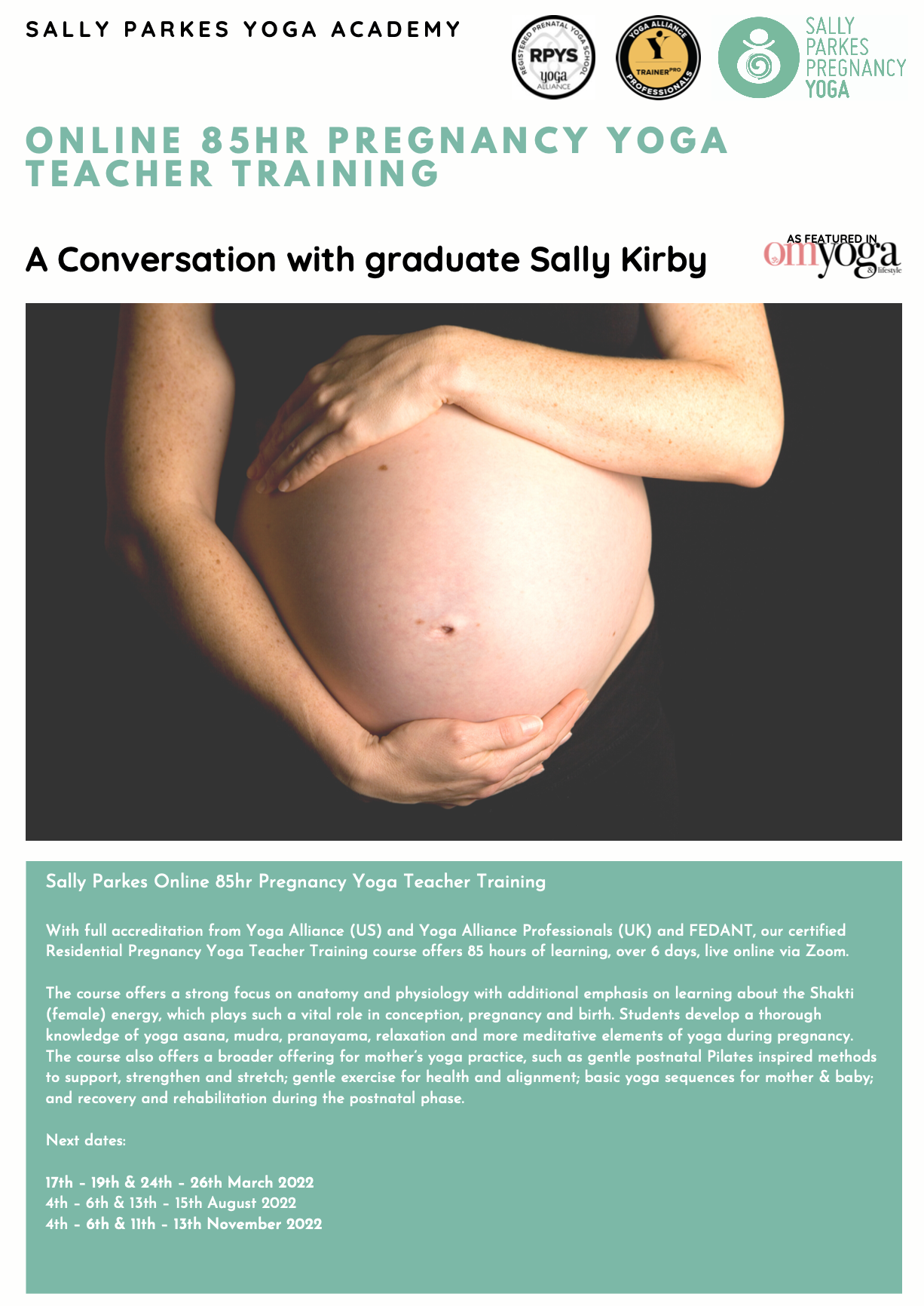 Grateful for knowledge & life! 
The last 2 weeks of Pregnancy Yoga Teacher Training with the fabulous  extremely knowledgeable Sally Parkes Yoga have been such a blessing. 
Anyone looking to deepen their knowledge, look no further. I have learned so much; from Anatomy to soft skills, so we can support our pre & postnatal mums & babies.
As a mum of 3, so many important aspects of the prenatal & postnatal journey were covered, I can finally reason and comprehend it with my yoga teacher hat on. We are always learning! Love it!
A massive development for me is that we truly can soften and slow down our practice. I have always enjoyed a strong practice, but yoga is truly nourishing for body & mind when we practice kindness & acceptance.
This training has once again shown me the diversity of what yoga is and I am grateful for the opportunity. 
Yoga support and benefits us in so many ways; breastwork, mindfulness, equanimity & asana... It's life-changing. I cannot wait to bring the pregnancy classes to my mums to be! Thank you Sally!
My 200hr TT was very anatomy focused which suited me coming from a massage/sports massage background but something felt like it was missing in my teaching and over the past year or so I've recently moved into a more feminine practice. 
I've struggled to find where I fit with teaching as I LOVE anatomy but felt a disconnect with trying to introduce a more feminine practice to students.
This training had the perfect balance of anatomy & physiology whilst honouring the feminine and moving into the parasympathetic nervous system and I feel excited to get going with things once baby is here!
Thank you for helping me feel like I belong and I'm excited to do some other trainings with you in the future 🙂

The Trainer Pro award recognises that Sally Parkes Yoga courses overdeliver in the depth of knowledge and student support that is delivered, giving more value and individual input to our students. Our intention is to ensure that every student that comes to us, leaves our courses confident, knowledgeable, and fully encouraged to be the best teacher they can be, and fully encouraged to realise their dreams. 
Sign up here for the latest news!