28Hr Yin 
Yoga Teacher Training Online – On Demand
with Nina Goldberger E-RYT 200, BaHons, MSc, Online via Zoom
This is a self-paced training course, available to download on demand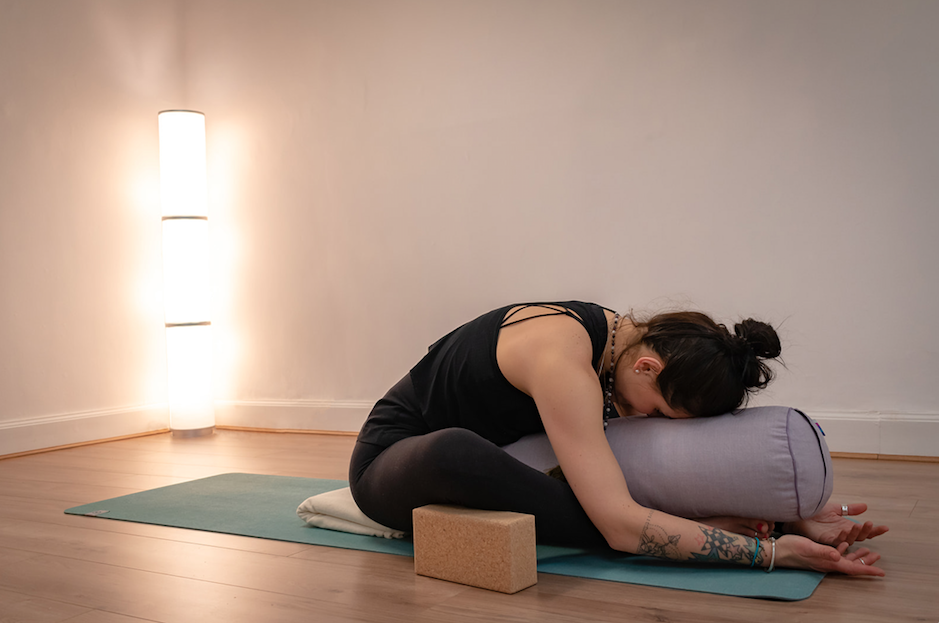 On Demand 28Hr Yin Yoga Teacher Training with Nina Goldberger

About this training…
In this comprehensive Yin Yoga Teacher Training we will practice Yin Yoga postures according to season & first hand feel the effects of unblocking our energy lines.
You'll learn about the science & purpose behind Yin Yoga and its roots in ancient Traditional Chinese Philosophy. This course will give you all the tools to confidently introduce Yin Yoga to your students in classes and sequence themed classes.
Yin Yoga offers us an opportunity to 'clean house' so that the body & its organs can function more harmoniously as laid out by the traditions of TCM. 
All too often, the build-up of life stress, cause not only tightness and discomfort in the body, but deeper-rooted illness too. There is a way to undo the cycle and learn how to effectively relax, body, mind & soul. Yin can potentially aid healing by  calming down the nervous system thus reducing stress & anxiety, improving health & wellbeing.
This self-paced course will be broken down into accessible modules, available for you study when you wish. There is no set completion date.
Please note: This course is open to all, whether you are already a yoga teacher or not.
The 28 hours are made up of self-paced online training hours, self-study & completing some assignments.
 
The Training will cover:
Exploring the Traditional Yin Yoga Postures (& some variations/modifications) and why we practice them in this way
The benefits of this 'sweet surrender' practice as a whole
The role of Stress & the Nervous System
Exploring Meridian Line Theory & Energetics
Philosophy & Background
Contraindications & Modifications for people who are experiencing/recovering from injury or inhabit older bodies
Pregnancy & Yin: how to navigate
Restorative yoga, the basics
How Yin Yoga practice correlates to the seasons and the complementing elements (5 Element Theory) & Sense Organs
Planning & Structuring a themed Yin Yoga Class
Breathing for Stress Relief/Calming down an overactive nervous system
Metta Meditation (Loving Kindness Meditation) & Yoga Nidra sessions
Bonus pre-recorded Yin Yoga, Pranayama & Meditation classes
Yin Yoga is the perfect accompaniment to a healthy Yang practice such as Ashtanga, Vinyasa Flow Yoga, or any other type of higher intensity sport, to offer balance and support for your body's normal functions.
This Yin Yoga Teacher Training is led by Nina Goldberger E-RYT. It includes an illustrated training manual. This course will be held online. You will be asked to complete a short set of assignments and reading in order to receive your certificate.
This course will be recorded and available for download for you to revisit and keep, for one year after the course completes.

For this training you will need:
A yoga mat
1 x yoga block (or more)
2 x yoga bricks (or more)
Bolster
A blanket (2 if possible)
(Optional) 1 x yoga strap (for modifications)
Eye pillow (optional)
Notebook, pens & highlighter
Your training manual (this will be emailed to you; we suggest printing it for taking notes)
This 28Hr training is registered with Yoga Alliance USA as YACEP & Yoga Alliance Professionals UK as Continuing Education and you will receive a certificate upon completion. 
Recommended reading:
The Complete Guide to Yin Yoga: The Philosophy & Practice of Yin Yoga by Bernie Clark (revised edition recommended)
The Language of Yin by Gabrielle Harris
Your training manual
Investment:
£247. This includes a comprehensive training manual.
You can also pay by Bacs. Please email us and we will send you the details: accounts@sallyparkesyoga.com
With love,
Nina & Sally x
Cancellation Policy
Your place on this course is confirmed once your deposit and/or course fees have been received by Sally Parkes Yoga Ltd.
Due to the limited spaces on this yoga teacher training course, your deposit and subsequent course fees once paid, are non-refundable nor transferable. Nor is your place on the training transferable once the training has begun. 
We cannot take responsibility for any missed days of training. 
Attendance of and active participation in all modules, plus completion of coursework and assessments, as laid out by your course leader are essential in order for you to complete the course and receive your certification.
For in-person trainings, we are not responsible for any travel, accommodation, food or drink or other resources you may need to complete the chosen yoga teacher training course.
By registering and paying the course fees, you are agreeing to this policy. Thank you.
Excellent training!
I thoroughly enjoyed this course & would recommend it. Lovely teacher. Such a friendly atmosphere.
I found it particularly beneficial as my wrist is currently broken and healing, so being able to practice asana with injury, was wonderful. What more can I say.
More please and thank you so so much.
Yin Yoga has been on my radar for a while,  It is the perfect accompaniment to surfing & life in Morocco. 
I particularly enjoyed the deep back releases!
I was a little apprehensive to sign up to a 2 day weekend online course. Curious as to how it would feel being on Zoom for so long each day, for 2 days. I am now confident in saying that this style of learning suited me.
I really enjoyed the format of the weekend course. Each day we went straight into a Yin practice, guided by Nina, a knowledgeable, passionate, patient and empathetic teacher. Her teaching style was really accessible, and easy to follow online.
Both days finished with further relaxation, a beautiful guided meditation and Yoga Nidra. The course was really well planned, great recommended Reading List, simple booking process and follow up. 
I am excited to get back to online teaching and share my new Yin wisdom soon.
Investment:

£247
Payment plans are available, please contact us.
All students will receive an electronic PDF certificate upon completion of this training, plus a Sally Parkes e-logo to use on your marketing materials to show that you have achieved these additional training hours.
This 28Hr training is registered with Yoga Alliance USA as YACEP & Yoga Alliance Professionals UK as Continuing Education and you will receive a certificate upon completion & be able to log these hours..
Details:
*Booking Link Coming Soon*
Please contact us for any enquiries or if you wish to pay by Bacs:
accounts@sallyparkesyoga.com or contact Nina on 07739 850 041
Thank you so much for a really great, informative course and some lovely practices. I will definitely be making yin part of my regular practice and will be incorporating the course into my teaching.
I really enjoyed it!
This training is fantastic and Nina is amazing!
Nina is so knowledgeable and warm. I thoroughly enjoyed the training which was almost like a little retreat.
Both days started with a nourishing practice and the days then packed with information, closing with a relaxation and yoga nidra.
Nina's time keeping was excellent and the day was structured really well, which is important when learning via Zoom.
Nina answered all our questions and was friendly, calm and patient with everyone.
After the course, we received details of books we discussed, class planning and lots of other resources, as well as the recordings from the weekend. I feel really well prepared to explore yin in my own classes now and I can't thank Nina enough for all her support with that.
I thoroughly recommend this course. 
Thank you so much for the most wonderful, engaging & informative training – I enjoyed it very much!
Nina Goldberger – MSc, BA (Hons), E-RYT200, Wellbeing Coach, PYT & APYT
Nina is an experienced Yoga Teacher & Self-Love Wellbeing Coach based in Edinburgh, with 500 hours+ of Yoga, Yin & Restorative, Anatomy, Adjustment, Philosophy, Chanting & Ashram experience.
She has completed Sally's 85Hr PYTT & 25Hr APYTT and also the 100Hrs Advanced Teacher Training with Sally & Chris in Spain 2019.
She is passionate about helping people find stillness, balance & acceptance in their lives, through learning how to use the breath properly, moving in tune with & reconnecting to their body and looking inwards & cultivating self-love. This journey is ongoing for Nina herself as she learns more about herself and can better support her students through yoga.
She offers regular classes in Vinyasa & Yin Yoga and deeply restful & nourishing Wellbeing & Restorative focused sessions and Mindfulness.

The Trainer Pro award recognises that Sally Parkes Yoga courses overdeliver in the depth of knowledge and student support that is delivered, giving more value and individual input to our students.

Our intention is to ensure that every student that comes to us, leaves our courses confident, knowledgeable, and fully encouraged to be the best teacher they can be, and fully encouraged to realise their dreams.
Sign up here for the latest news!