Upcoming Events
Yoga for the Postnatal Woman Workshop
with Sally Parkes, BSc, SYT, YET
Who is the workshop for?
This is a four hour workshop for any 200 hour or more certified yoga teacher wanting to expand their knowledge of how to safely incorporate a postnatal woman into their general yoga classes, and who want to learn yoga asana sequences which are specific to this particular demographic.
What will I gain from this workshop?
You will gain knowledge on what is safe and unsafe to teach your postnatal clients and how to integrate mothers into your general classes, as well as more specific techniques for postnatal mothers.
Company – Yoga Works
Address – 5 East Hill, London SW18 2HT, UK
Start Time
16/06/2018 1:00 pm
End Time
16/06/2018 5:00 pm
Price
£78.27 / £62.75 (Early Bird – 20 spaces only)
1-2.30pm How does being postnatal change the abdominal area, pelvic floor and pelvis?
There are many changes during pregnancy and for some time after the baby is born, and in order to teach mothers effectively we need to know the mechanics of the pelvic diaphragm and pelvic floor, the anatomy of the pelvis and sacroiliac joint, and how all of these can be affected. Hormonal and postural changes also massively affect the physical and emotional body and this also needs to be considered when teaching postnatal women. These aspects shall all be discussed with a practical session to follow to put this theory 'in action'.
2.30-4pm: Yoga for the Postnatal Woman – Practical Session
This ninety session will give the teacher tools to deliver safe and effective techniques on rebuilding the core whilst stabilising the pelvis, and address postural changes typical of the postnatal mother, known as 'Kyphosis'. The class will be flowing and subtly energising with postnatal appropriate Sun Salutations, all linked with the breath and bandhas. A short balancing and warrior sequence will follow, focusing on rebuilding and strengthening the body to assist with the physical strain that inevitably comes with mothering. We will then move in to small subtle movements of the lower back and pelvis that mobilises the sacroiliac area of the spine and the muscles that surround the pelvis before shifting our awareness to the pelvic floor and breath work. Deep relaxation in the form of supported Savasana will conclude the session.
4-5pm: How to incorporate a postnatal woman in to a general yoga class.
Now we will look more specifically at how to safely incorporate postnatal women in to a general yoga class. Also certain asana such as strong inversions are not recommended, and it will be explained why we do not do these and what alternatives we can offer which are appropriate and more effective for the mother. The workshop will conclude with a brief Q and A session.

---
The Science of Stretching CPD
Develop your understanding of different stretching principles used within Rehabilitation, Therapy & Yoga Practice.
This CPD course and workshop will help to develop understanding of what happens to the muscular system when stretching applications are applied and how different forms of stretching principles are used to increase flexibility within rehabilitation, training and yoga practise.
Stretching reflexes will be discussed and explained in relation to rehabilitation, group and individual settings, along with Yoga practice.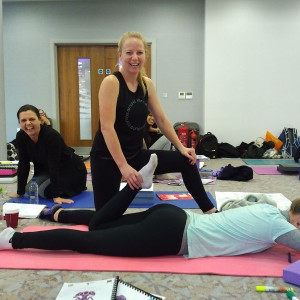 This CPD course and workshop is suitable for:
Yoga Teachers, Pilates Teachers, Personal Trainers, and Yoga and Pilates practitioners who would like to further develop their practice.
Course Tutors:
Dawn Morse BSc, PGCE, MSc, SYT and Sally Parkes BSc, SYT
Dawn Morse has a Masters Degree in Sports and Health Sciences, is a qualified Teacher, Sports and Remedial Massage Therapist and Senior Yoga Teacher. Dawn has been working within the field of Sports Massage Therapy and Sports and Health Science for over fifteen years and has over eight years of experience as a Sports Science and Therapy Lecturer and Programme Leader for the University of Bath Sports Therapy Foundation Degree. Dawn is now an associate lecturer for the Open University and is a Senior Yoga Teacher for Yoga Alliance professionals.
Sally Parkes is a senior International Yoga Teacher and Yoga teacher trainer. Sally has been running Laxmi Yoga Teacher Training and Pregnancy Yoga Training internationally for many years now. Sally is regularly published within Om Yoga Magazine and is the Author of the Students Manual of Yoga Anatomy.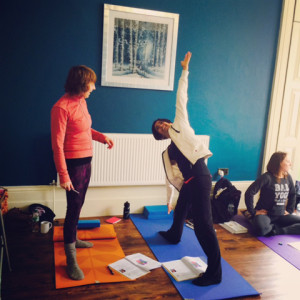 During the course:
The day will start with a short vinyasa yoga class delivered by Sally to waken the body and mind after morning travel to the venue.
You will then be introduced to advanced stretching principles such as:
Developmental Stretching and PNF stretching for physical activity and yoga practise.
Physiology of stretching and the techniques will be discussed; along with application within rehabilitation, yoga and pilates and the benefits of use within a one to one setting, group classes and personal practice.
Working within small groups you will design balanced sequences which incorporates the advanced stretching principles.
At the end of the day you will take part in a full group class which draws advanced stretching techniques together within a yoga format.
The day will conclude with time for Q & A.